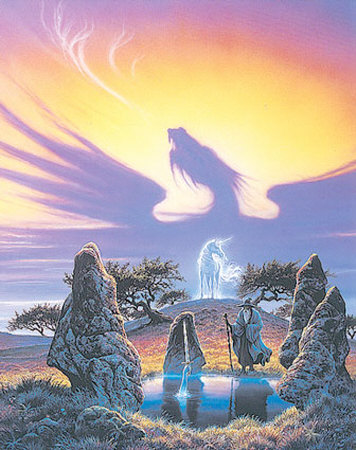 Okay so this is something I have been thinking about for a while now. I love fantasy, the dragons, the wizards, warlords, warlocks, unicorns, wendigoes, minotaurs, heroes, princesses in towers, Secret royal, mystical items, heroic adventures, all of it. So I read a lot of it, Tolkien, Lewis, Hobb, Ende, Martin, Rowlins, Pratchett and others for the modern stuff, and I read the classic myths, Homer, Arthur, Wife of Bath, Irish Myth Cycle, Norse Myth, Grim Brothers and others.
In the last year I found a pod cast called The
Tolkien Professer
. where Dr. Corey Olsen discusses topics in Tolkien studies; gives lectures on The Hobbit; shares lectures from classes he teaches at Washington College; and leads a reading group though The Silmarillion. His pod caste has inspired me to look over some of the fantasy that I love to see why it is I re read them. I thought about doing this with was the Harry Potter series, to see if Harry Potter could be more then a book enjoyed by this generation and then forgot by the next. Then I found this pod cast over at the
Hog's Head Pub
. There Travis Prinzi and several others discuss topics concerning Harry Potter. From their point of view Harry Potter is worthy of academic study. I enjoy his pod cast and the topics he discusses. (by the way Prinzi is teaching a class about Harry Potter at the
Mythgard institute
. I am really tempted to take the class, really cheep -$500 for a three credit course!!!- because they are completely online seriously everyone should check this place out.)
So Between Dr. Olsen and Mr. Prinzi -oh and I should also mention John Wilson over at
The Amazing Spider-man Classics pod caste
- I have been inspired to talk more about the books I love in a way that helps others see their value. So at the beginning of the year I am going to be sharing my thoughts as I read. The books will be books that I have read at least twice prior to my read through for the sake of this project. the posts will be by-weekly (hopefully Wednesday and Friday) and cover only one to two chapters a post. I hope that for some of the books I can get guest writers who also love the stories to talk about different themes. I also will pull from things that may have already been written about the Book.
My plan for now is to start with my absolute favorite book
The Never Ending Story
, This will probably be followed by something that has a longer series either
The Daughter of the Forest
by Juliet Marillier, or
Harry Potter and the Sorcerer's Stone.
Till then on Fridays I am going to be posting about a different book. One that I bought back when I was living in Bismark ND but have only now started to read-
From Homer to Harry Potter; A Handbook on Myth and Fantasy
but Matthew Dickerson and David O'Hara. It deals with this idea that fantasy is just as reliant and insightful as non-genre fiction. It has already inspired me to embark on this project and seemed fitting.