I like these. I think they are fun and they give me something to do when I can't think of what to blog about. I may host on someday, but not today. Today I have signed up to participate in Jessa Russo in honor of her release of her first novel: Ever. Ever is described as a YA Paranormal Romance between a girl and a ghost. You can check out her blog
here.
Any way so about this blog hop...
this one is going to be a little wierd for me, but we should always try new things right? right?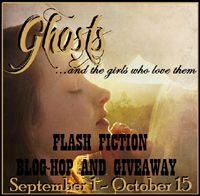 Yep ghost and the girls who love them. well actually the blog hop only requires the flash fiction to be a ghost story not necessarily a love story between a "living" person and a ghost, Jessa has even said that ghost can be loosely defined. But I have an idea forming in my head, so maybe not all is lost. Either way the prizes for this little project is pretty awesome so I look forward to trying my hand at this and reading what everyone else comes up with.
also If you haven't already sign up. it will be fun.